December 2, 2011
The 2012 Giants' Ultimate Spring Training Guide
The San Francisco Giants take on the NL West Division Champion Arizona Diamondbacks in their first 2012 spring training game on Saturday, March 3rd at Scottsdale Stadium.
Whether it's your first time going or an annual pilgrimage, if you are planning on visiting the Arizona desert this spring, this 2012 Ultimate Giants Spring Training Guide will help you make the most of your trip.

2012 Giants Spring Training Schedule
(All games start at 1:05 pm, unless noted otherwise)
Tickets
The best place to buy your tickets is on StubHub, in my opinion, but because the Giants are a big draw since their World Series win in 2010, you have to be careful with the gougers.
You can also go the standard route, through sfgiants.com or in person at any Giants Dugout Store.
Rainouts
If the game doesn't go a full five innings, you have the option to exchange your ticket (at the Scottsdale Stadium box office) for another home game or get a refund (up to 30 days after Spring Training ends).
Location
Scottsdale Stadium, located at 7408 E. Osborn Road in Scottsdale, Arizona, has been the Spring Training home of the Giants since it opened in 1992.
The 12,000-seat stadium sits smack dab in the middle of the quaint downtown district, just three blocks from Old Town and right across the street from Scottsdale Healthcare Hospital, where fans are sometimes subjected to a fly-over from the Life Flight helicopter that graces the top of the hospital.
Driving directions
From Loop 101: Take the Indian School Road exit. Drive west on Indian School Rd., then turn south on Drinkwater Blvd. The stadium is at the intersection of Drinkwater and Osborn Roads.
From Loop 202: Take the Scottsdale Road exit and go north for approximately 3.3 miles. Bear right onto Drinkwater Blvd. and the stadium will be about a half-mile ahead on your right.
Scottsdale Stadium
Scottsdale Stadium is the perfect place to watch a ballgame. It has actually been around since 1955. However, it was refurbished in 1992 when taxpayers approved a massive tax bond to ensure spring training remained a viable option for winter-weary tourists.
HOK designed and built the renovated stadium, which looks a little like a miniature version of Wrigley Field with its brick walls and dark green gates. There's no ivy covering the outfield walls, but there are about 200 trees on the 11-acre parcel and fans (especially those who sit on the first base side) are treated to some pretty awesome vistas of the Camelback mountain ranges, which seem to surround the stadium from afar.
Some people have complained about the abundance of aluminum bleacher seats in the upper grandstands, but it's what keeps ticket prices reasonable, so you have to take the good with the bad. (More on seating, below.)
Tidbits
Attendance last year at Scottsdale Stadium was 160,574, up from 155,819 in 2010, but still down from its peak of 177,995 fans in 2009. Still, the average attendance per game in 2011 was 10,036.
There are six gates from which you can enter the ballpark. Gate A is located behind center field. Gate B is behind first base (which is closest to the box office), Gates C & D are located directly behind home plate (this is where the stadium staff enter), Gate E is located behind third base, and Gate F is located out in left field. Gate F is how you want to get in if you're sitting on the lawn. It's also close to the food court and several souvenir vendors' booths.
The Giants' Team Store is located behind first base (near Gate B) and is accessible without entering the stadium.
All together, there are six different spots to buy merchandise. A vendor in the concourse behind home plate sells game-used stuff.
If you're not driving to the stadium yourself and you are just getting dropped off, a quick way in is through Gate A behind center field. There's a cul-de-sac back there that makes for easy "get in and get out" maneuvering.
Besides the box office window near Gate B, there are two other ticket windows located next to Gates E and F.
The concourse at Scottsdale Stadium sits behind home plate and is covered by the grandstands. They are fairly wide and uncongested (especially when you compare them to the crowded concourses at AT&T Park).
While you're traversing the concourse, make sure you take some time to check out the Arizona Fall League Hall of Fame and the Scottsdale Sports Hall of Fame displays located on the wall directly behind home plate.
The bullpens at Scottsdale Stadium are located behind the outfield fences (out of view from fans sitting in the seats, but easily accessible to fans sitting on the lawn). The Giants' bullpen is located in right field, right below the Charro Lodge, while the visitors' pen is behind the left field wall.
The scoreboard (complete with a miniature jumbotron and old-fashioned clock) is located in left-center field and is very hard to see if you're out on the lawns. But there are a couple of small scoreboards attached to the facades of the first and third base grandstands that display the score, outs, inning, and the batter's count.
There are two ATMs located inside the stadium, both on the main concourse.
Banners and signs are permitted (can't be commercial or lewd).
No video camera or tri-pods allowed inside the stadium.
Practice facilities
The Giants have two different diamonds where you might find some practices going on. Their minor league training facility is located about two miles away at Indian School Park (4415 North Hayden Rd.). Usually, it's the minor league players who work out there. To get there, just take E. Osborn Road to N. Hayden Road and drive until it intersects with Camelback Road.
There is another practice field located directly behind right field at Scottsdale Stadium. Most of the big league players use the Scottsdale field before, during and after games, so that's the best spot to get pictures and possibly autographs, although I have never tried.
Parking
Parking at Scottsdale Stadium sucks. There's no other way to put it. That's why you will start to see fans walking to the game before your GPS even gets within a dozen blocks of the ballpark.
Don't be fooled by the stadium parking lot near Gate B (first base side of the stadium). It's reserved for staff and security. You can drive in to drop someone off, but they won't let you park there.
There is a free Civic Center parking garage located on Drinkwater Blvd., behind the left field wall, that is used for the library and other government buildings in the immediate vicinity. Unless you plan to show up four hours before the game, you're wasting your time driving up and down the four-story structure. And don't even think about parking in a non-parking stall in the garage. I've seen Scottsdale's finest leaving plenty of tickets on windshields of cars that tried to straddle a light post or concrete barrier.
Also be aware that some parking areas have a 3-hour time limit, just short enough to screw you if the game goes into extra innings.
Handicap-accessible parking is located in the City Court parking lot located south of Indian School Road on 75th Street and in the Civic Center parking structure.
Street parking near the stadium is also next to nil. You might get lucky and find a spot open up nearby (it happened to me once), but consider that a blessing from God, and certainly not an expectation.
There's a small liquor store across the street from Gate B (on the corner of E. Osborn Rd. & N. 75th Street) with a few parking spaces out front that you might want to try (since people come and go from the liquor store quite frequently).
Most, if not all, of the local businesses (including the hospital) in the neighborhood have private, permit-required lots with signs up that clearly warn you not to park without a permit or risk being towed.
And, trust me, the Scottsdale PD trolls the area pretty good on game days.
I have a couple of spots I like to use.
There's a place called Osborn Optical, located on N. Wells Fargo Avenue (between Osborn and Drinkwater), just two blocks from the stadium that does not require permits. The sign there does say "No Ballpark Parking" but, unless someone sees you stepping out of your car with all your Giants gear on and stuff, you should be OK. Just be quick about it.
The other spot is at the Villa Ocotillo Assisted Living center on Drinkwater, a block south of the yard. I just pretend that I'm visiting my grandma and then quickly hike it over to the ballpark.
If you're not into the "Black Ops" style of parking, another good option is the free Parking Corral, located at the corner of Brown Ave. and E. 2nd Street, about three blocks from the stadium. But, again, you better get there early. It fills up quickly.
Of course, your best bet is to just opt for the Giants' Trolley Shuttle. It starts an hour and a half before the game and runs until 30 minutes after the game ends. There are three different trolley stops (Loloma Station, Fashion Square Mall (next to Nordstroms) or along 5th Avenue).
Seating basics
Scottsdale Stadium is made up of three different sections: traditional seat-back chairs, bleacher seats and a lawn seating area.
There are 4,500 bleacher seats and 3,688 stadium seats.
The lawn seating area (which sits on an embankment that slopes downhill toward the outfield wall) holds up to 3,812 fans and it's first come, first serve. It extends from the left foul pole to right-center.

You cannot bring lawn chairs into the stadium!

Section 100 & 200 are all stadium seats with seat backs. They're fairly roomy, but there are no cup holders, so you need to keep an eye on your beer when someone wants in or out of your aisle, lest they kick it over.
Section 300 is the bleacher seats in the upper grandstand and features aluminum backs.
The lettered sections (A through D in right field and E through H in left) do not offer seat backs.
Click here for the seating chart.
Seating tips
You really want to sit on the first base side if you can. That's where the Giants dugout is located (see seating chart, above) and where you have the best shot of landing autographs (more on that below). Make sure you buy tickets in an

even-numbered section

to sit on the "home" side of the stadium.
Lower-level seats, Line seats, and Outfield Box seats are all situated below the concrete-paved aisle that separates the grandstand. Upper Box, Reserved Grandstand and Bleacher seats are above the aisle.
Handicap seating can be found at the top of Sections 101-106, 119-122 and 129-130.
Seats behind home plate (Sections 101-106) offer the best experience, of course. Surprisingly, the foul screen behind home doesn't distract from the action on the field.
Out on the lawn, there is a paved concourse that runs behind the grassy berm in left field, so when people are walking around the stadium, you don't have to worry about them blocking your view of the field. On the right field side of the stadium, the concourse winds it way along the outfield wall, right above the playing field.
In the event there are no spots left on the berm to throw down a blanket, there are a few "standing room only" areas located in left field, right-center and near the right field pole.
A nice little surprise is that — pending availability — you can upgrade your seats without fear of being told to go back to your original seats.
Seating areas
Rows for sections with stadium seats range as follows:
D to F in sections 101-102
A to F in sections 103-106
C to H in sections 107-116
A to H in sections 117-118
A to F in sections 119-122
A to H in sections 123-128
A to F in section 129
A to G in section 130
J to O in sections 200-216
Click here for the seating chart
Rows for sections with bleacher seats range as follows:
1 to 6 in sections 300-304 and 306
1 to 8 in sections 305 and 309-316
1 to 15 in sections A-H
Click here for the seating chart
Don't sit here
Almost every section in the ballpark offers a unique experience, but I prefer not to sit in seats with no seat backs, so I will tend to avoid sitting in the lettered sections (A through D and E through H). If you're looking to stay out of the hot desert sun, you will want to avoid the Lower Box seats (Sections 100 and 200), the best seats in the house by the way. Click here for the seating chart.
Shaded seats
Shaded seats can be had quite easily if you purchase a Reserved Grandstand ticket in Rows 3 and up. Likewise, Sections 300-306 and 309-310 are covered by the press box's awning, so there's plenty of shade there, too. There's some trade under the trees out in the left field lawn area, too, but remember: you likely came to Arizona for a reason…to escape the cold weather back home. Throw on some Bullfrog and enjoy the sun! Click here for the seating chart.
Reserved seating
You'll need to reserve these seats well in advance (480-990-2977), and if you do, the right field Charro Lodge is a great place for large groups. It features a covered pavilion and a large patio that stretches out over the right field wall.
There's another picnic area next to the press box that can be reserved by groups (415-972-2209).
And there's a private picnic area next to the left field foul pole that is available to all fans on days it is not reserved.
Game day
Don't get your hopes up that you will get to see the Giants take BP. Or the visiting team, for that matter. Gates don't open until 11:00 a.m., long after the team has finished batting practice. Visiting players take their BP at their own home ballpark before coming over to Scottsdale Stadium.
You can still find players mingling around down on the field or in the dugout, though, plus you want to get to the park early because of the parking issue I wrote about above. Arriving early also lets you peruse the Team Store and take lots of pictures around the stadium before the big crowds get there.
What you can and cannot bring into the stadium
Food cannot be brought into the stadium.
No coolers allowed.
Backpacks are allowed and will be inspected at the gate.
You are allowed to bring in one sealed plastic bottle of water per person.
Read the entire A to Z stadium policy here.
Ballpark food
One of the coolest things about Spring Training is the vibe among the fans, players and the stadium vendors.
As you would expect, the vendors walk around the ballpark pushing everything from beer to kettle corn to "lemonade like grandma made."  There is one place to buy grilled food, but for the most part, the food choices at Scottsdale Stadium are your standard ballpark fare (hot dogs, nachos, etc.), so you really are better off eating before you get to the yard. Scottsdale Stadium does sell Gordon Biersch garlic fries, though, so that's cool.
Your draft beer choices are Smithwick's, Guiness, and Harp (plus all of the typical domestics like Bud and Miller). There's a bar located out in the left-center field lawn area.
Autographs
About 30 minutes before the game starts, you will begin to see a lot of the players signing autographs next to their respective dugouts.
The best spot for Giants players' autographs is just to the right of the Giants dugout (toward right field, not home plate). This is Section 118.
You will want to get down to Section 118 a little early so you don't have to fight your way through the crowd of fans. Bring plenty of things to sign (baseballs, baseball cards, programs, etc.) and a nice Sharpie. Oh yeah, have your camera ready too, because you're going to be able to get some really close shots of the players.
If you're hoping for an autograph from an opposing team's player, you will want to hang out on the third base line next to the dugout.
I don't know if it's because of the long winter layoff or what, but players from both teams are generally happy to sign autographs. Don't be one of those rude people who yell at the players like you own them or something. Stay calm, be causal and friendly, and you will get an autograph. I spent a good five minutes talking to Will Clark last year while he signed for fans.
The old timers (like Clark) seem more happy to sign autographs, by the way. Maybe it's because they've been away from the game for so long and miss the adulation? Clark was signing autographs during the game for fans seated directly behind the Giants dugout. They would toss him a ball and he would sign it and toss it back. Pretty cool stuff.
Don't be shocked if you see some of the baseball legends in the crowd, either. After one game last year, my son and I ran into Hall of Famer Felipe Alou, who was more than happy to stop for a picture and autograph right there on the concourse. Cal Ripken Jr. was also on hand during one game last year.
About Scottsdale
The city of Scottsdale (pop. 240,000) was incorporated back in 1951. Known as "The West's Most Western Town," Scottsdale is located in the beautiful Sonoran Desert and is bordered by Phoenix to the west and the McDowell Mountains on the east. It's large and expansive at 184.2 square miles, sitting over 1,200 feet above sea level at its lowest point.
The city gets 314 days of sunshine a year (most of the rainy days come in early spring, ironically).
By far, the best post-game hangout scene in the Cactus League belongs to Scottsdale, which has been consistently ranked among the nation's most desirable communities to live in and visit.
The downtown area is one of the nicest urban centers in all of Arizona. There are more than 90 restaurants, 320 retail shops and more than 80 art galleries downtown. Most of the shops in Old Town are designed to look like they're straight out of the Old West.
The posh Fashion Square Mall (located just a couple of miles north of the ballpark on E. Camelback Rd.) is considered the largest shopping mall in the entire American Southwest.
North of Scottsdale, the McDowell Sonoran Preserve — with over 60 miles of scenic desert trails — is the largest urban wilderness area in the U.S. (Click here for a complete online guide to exploring Scottsdale.)
Nearby restaurants
(click on the links to open Yelp info)
Don & Charlie's (0.25 miles from Scottsdale Stadium)
Denny's (0.25 miles)
Olive Garden (0.25 miles)
Red Lobster (0.25 miles)
Los Olivos Mexican Patio (0.25 miles)
Pepin Spanish Restaurant (0.3 miles)
Oregano's Pizza Bistro (0.3 miles)
Jewel of the Crown Indian Cuisine (0.3 miles)
The Blue Moose Sports Bar (0.3 miles)
The Orange Table (0.3 miles)
Tokyo Express Inc. (0.35 miles)
Karsen's Grill (0.35 miles)
Yogurtland (0.35 miles)
Hotels
(click on the links to open TripAdvisor info)
Comfort Suites (0.1 miles from Scottsdale Stadium)
Sonoran Suites (0.1 miles)
Courtyard Old Town (0.3 miles)
Holiday Inn Express (0.35 miles)
Homestead Studio Suites (0.4 miles)
Hilton Garden Inn (0.5 miles)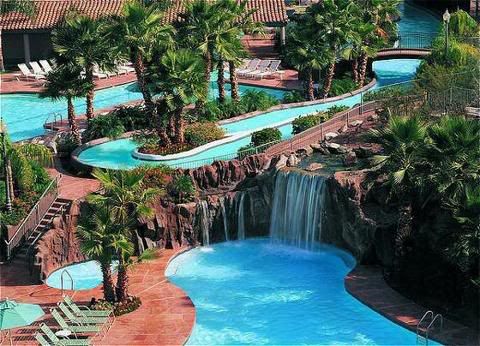 Be forewarned: staying in Scottsdale is not cheap!
The hotels make a killing off baseball fans in the spring.
Budget-minded folks may want to stay in nearby Phoenix instead.
If you're bringing your family, I highly recommend Pointe Hilton Squaw Peak Resort (see image, left), which is where we stay each year.
For about $150 a night, you get a great location, very nice swimming pools, and a tubing "river" that winds through the resort. Trust me. Pay the extra dough (vs. the cheap motel option) and treat your whole family to a nice vacation.
The temperature in Phoenix can get up into the upper 80s in March so you will be glad you found this place.
Airports
Additional info
See also Francisco Grande, the original Spring Training home of the San Francisco Giants.
Information for this article was gathered from springtrainingconnection.com, scottsdaleaz.gov, scottsdalecvb.com, and mlb.com.